Jacqui Halpin Wartime Nurses: Care and compassion (Australia Remembers #6), Big Sky Publishing, October 2022, 72 pp., RRP $14.99 (pbk), ISBN 9781922615596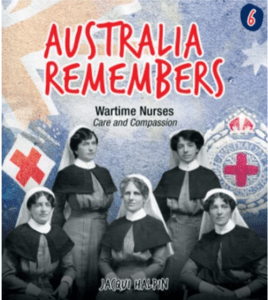 This is one of a series of professionally produced Australia Remembers war-history books for children. They include books on ANZAC, traditions of the Australian Armed Forces, the bombing of Darwin, VC winners, the remarkable Aboriginal pilot Len Waters, and other titles.
Jacqui Halpin has been a nurse, and she has a keen interest in nursing history. She is also active in the society of Children's Book Writers. Across fourteen chapters of boxed text blocks with many historic photographs and illustrated memorabilia, the book covers the history of Australia's military nurses. Formed in 1899, there were 24 nurses in the first contingent of the Royal Australian  Nursing Corps. Their motto was 'For Humanity'. They worked in tents, on ships, in India, in Greece, and in the First world War on the Western Front.
Some of the photographs are vivid reminders of the scale of the human damage war inflicts. One black and white photo, for instance, shows dozens of soldiers on stretchers across the expanse of the deck of a hospital ship in 1915. Volunteer nurses are acknowledged, and also the fact that in WW1 women doctors were not permitted to serve. It was not just war injuries, but at times the ravages of polio epidemics, Spanish flu, and tropical diseases that required the dedicated, professional, sometimes innovative care of nurses. Over 4,000 Australian nurses served on air, land and sea during World War Two, perhaps most perilously on the large unarmed hospital ships which were targeted by Japanese forces.
More recently, nurses have served on peacekeeping and humanitarian aid missions. And now of course there are a good number of men among the  nursing ranks. This is an inspiring book for any child interested in history – and in how actual individuals have negotiated their way through the horrific wars of the previous century. It is an important reminder that women have played crucial, brave, professional and humane roles in the big events of history.
War will always be with us. And this book does not shy away from the loss and grief associated with it. At the same time it also celebrates values of selfless generosity, commitment, care, and compassion.
Reviewed by Kevin Brophy