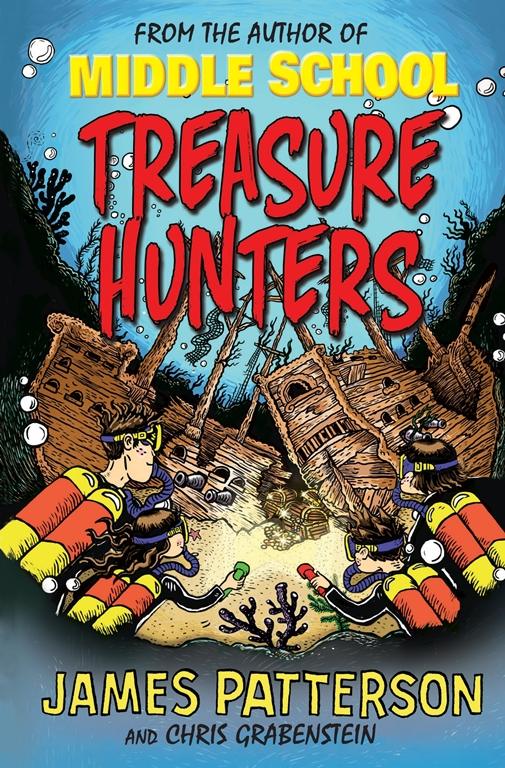 James Patterson and Chris Grabenstein, Treasure Hunters,  Penguin Australia,  19 Sept 2016,  480pp.,  Special Price $5.00  (pbk),  ISBN: 9781784755836 
The Kidd kids are facing a difficult situation. Their father has disappeared from their boat in the middle of a storm (is he dead, or was that really a helicopter Bick heard in the middle of the hurricane?) and now they have to decide what to do. Do they keep hunting for treasure, like their father? The locked room on their boat, the Lost, may hold some ideas. But first, they'd really better do something about that leak before their boat sinks on them.
Treasure Hunters is narrated by Bick Kidd in snappy and funny style, ably assisted by his twin sister Beck's illustrations. Together with their oldest brother Tailspin Tommy, and brilliant sister Storm, Bick and Beck follow the breadcrumb trail of clues leading from maps to treasures, to shifty dealers and CIA agents, as they try to work out what their father was actually looking for before he disappeared, and whether their mother is as dead as they had thought. There is much action, adventure and humour along the way.  It is particularly amusing watching the four resourceful and able Kidds negotiating their way through an adult world, facing down pirates and working their way around grownups who think they have the upper hand.
For all Treasure Hunters is a big book, it is surprisingly quick to devour, and told in a very readable conversational style. I love the illustrations that go along with the story, and there are clues embedded in Beck's artwork as well as Bick's words. This is a ripping good read for ages 8 to 12.
Reviewed by Emily Clarke