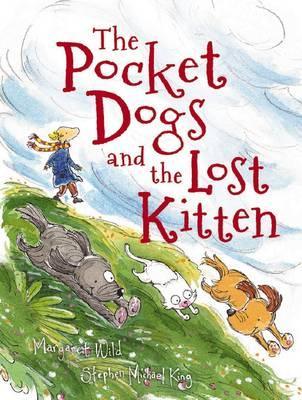 Margaret Wild (text),  Stephen Michael King (illus.),  The Pocket Dogs and the Lost Kitten,  Scholastic Australia,  1 Feb 2016,  32pp.,  $24.99 (hbk),  ISBN: 9781742991054
King and Wild have combined their talents again to produce another story about Biff and Buff, who so enjoy riding in Mr Pocket's pockets.  At first when the kitten arrives on their doorstep, one cold wet windy night, Biff and Buff are delighted to accept her, play with her and share their toys until they realise that Mr Pocket seems to spend so much time with the kitten.  They feel rejected, dreaming of supposed changes in the household, and begin to growl at her and not allow her the freedoms they had previously given. From their perspective, she is given all the treats which previously had been theirs. The kitten recognises this change and leaves but Biff and Buff, after a brief lecture from Mr Pockets, bring her back to the household where all three animals curl up together on Mr Pocket's lap. It's only at the end of the book that the kitten is named Molly, indicating her acceptance into the family.
As always, there are many elements in King's illustrations which complement the verbal text and young readers are sure to have fun recognising Mr Pocket's idiosyncrasies , including his unicycle, his spotty pjs, bald head and eclectic possessions.  There's great use of white space which focuses the reader's attention on what is on the page, but also some backgrounds which set the scene. Yellow is a dominant colour throughout the book.
This is a great story introducing young readers to the concept of sharing both space and love, as well as acceptance of a new member of the family. I enjoyed this one as much as I did the previous Mr Pocket stories. Recommended.
Reviewed by Maureen Mann