Chaz Hayden, The First Thing About You, Walker Books, September 2022, 368 pp., RRP $19.99 (pbk), ISBN 9781529510942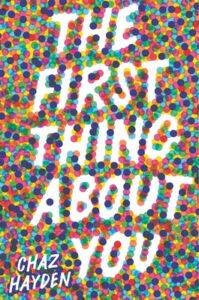 After moving across the country with his family, Harris wants nothing more than to just fit in and be a normal teenager – but that can be difficult when you have spinal muscular atrophy. Determined not to fall into the same lonely rut he was stuck in back in California, Harris is eager to reinvent himself. Prepped with his go-to icebreaker/personality test ('What's your favourite colour?') Harris is searching for outgoing yellows, adventurous oranges, and thrilling reds to contrast his trustworthy blue.
When his new nurse, the young, beautiful (and perfect mix of orange-red) Miranda enters the scene to accompany him at school, things start to change. Quick friends, Miranda aids Harris not only with taking notes and eating lunch, but with making new friends and winning the affections of the ever so intriguing, cute-girl-in-his-class Nory Fischer. But Miranda has her own demons, and while Harris initially wanted to reinvent himself, he starts to question whether he likes the person he's becoming.
An honest and charming coming of age story, The First thing About You explores themes of disability, love, family, friendship, stereotypes, isolation, and grief. I deeply appreciated the well-developed yet realistically flawed characters including Harris's family with whom there are many hilarious and heart-wrenching moments. Chaz Hayden (who shares the same condition as Harris) taps into his own lived experience to create an extremely authentic feeling narrative. Three dimensional disabled characters are hard to come by in Young Adult literature, but Hayden does an exemplary job with Harris and doesn't shy away from some of the harsh realities of his everyday life.
Following Harris as he navigates family, friendship, first love, and finding himself was thoroughly enjoyable. I would recommend this honest, hilarious, and heartfelt novel to anyone 14 years and over.
Reviewed by Libby Boas