Jack Heath (text), and Max Rambaldi (illustrator), Stunt Kid Seriously Stacks It!, Scholastic Australia, March 2021, 336 pp., RRP $17.99, (pbk), ISBN 9781760970598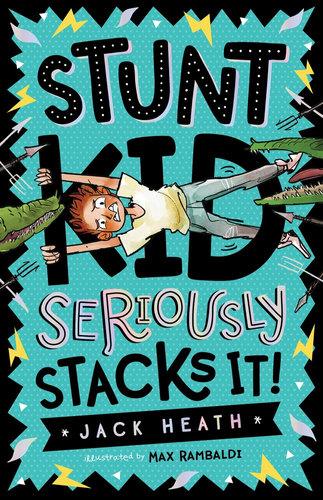 Levi is a bit of a word nerd but instead of being curled up somewhere safe and warm with a book he finds himself in a state of constant danger as the lead actor and stunt man in Dad's crazy TV show Kid Kablam, inspired by the movies of his hero Joe Dangerfield. Levi has endured performing some pretty scary stunts, but the last scene will see him perform the most dangerous stunt of all. What can he do? With best mate Maya, a would-be supervillain and expert hacker, he does what he can to avoid a seemingly grizzly end without upsetting his dad too much.
A mad capped, action-packed romp with seriously over the top characters. Author of many children's books and winner of the 2020 IBBY Noël Award, Jack Heath uses tongue in cheek humour, tropes and thinly veiled film references and gags throughout the narrative to entertain his readers.
Max Rambaldi's loose line drawings and exaggerated imagery cleverly build on and support the frenetic pace and crazy actions of characters and plot.
Recommended for readers 9+ years.
Reviewed by Mem Capp