Anh Do (text) and James Hart (illustrator), Take to the Skies (Skydragon #1), Allen & Unwin, October 2020, 240 pp., RRP $15.99 (pbk), ISBN 9781760876364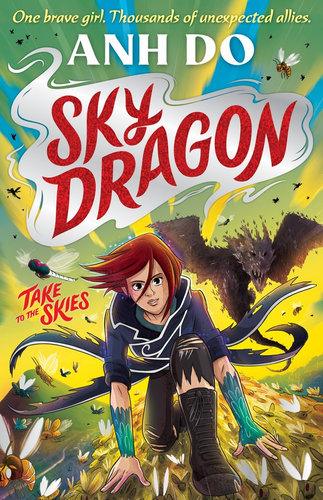 Anh Do's latest release is the first in a new series for the busy author, artist and comedian. Take to The Skies: Skydragon is a thrilling read from the first few pages in, as the story is set up to be a wild adventure full of intrigue, mystery and secrets.
Amber is a happy girl one minute, the next she is reeling from an unexplainable disaster which strikes her town and her family. Her brother is in a coma, she has no idea what the object was in the sky, or that purple goop. One thing becomes clear, she has changed. Forever.
By Chapter 6 we begin to learn that Amber's exposure to those mysterious elements that night seems to have given her a special connection to nature; bugs, to be specific. What does it mean?
Aimed at readers 8-14, I think there is enough action and conspiracy to keep readers engaged. The action begins early on to capture the attention, and rarely lulls. For fans of Anh Do's previous series such as Wolf Girl, this will be a definite new favourite. And luckily, we can expect further books in the series, going by Do's existing works.   
Reviewed by Belinda Raposo