Charles Hope, Robots: The Future is Now, Wild Dog Books, June 2020, 24 pp., RRP $24.99 (hbk), ISBN 9781742034799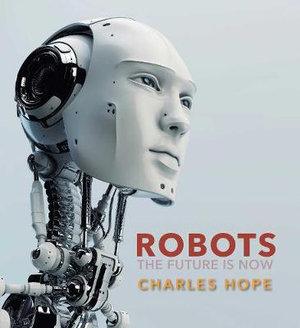 It is good to see a series of information picture books about complex technological topics. This particular book is about robots while some others in the series cover 3D printing, artificial intelligence and virtual reality.
Beginning with a definition, the contents move on to look at robots in myth and culture and the history of robots, including mechanical automatons from the 16th century. Later sections look at examples of robots, where they are currently put to work and why they are used. The concluding page examines their future.
This square hardback is similar in size to many picture books and its layout is clear and well-designed. The eye-catching photo on the front cover is accompanied by many more from various sources throughout the book, all acknowledged in a photo credits list.
It is difficult to explain a complex subject in simple terms for a young reader, but this book makes a good attempt. There are a couple of minor factual errors such as describing Sputnik-1 as an early robot (when it was a satellite, which doesn't really meet the definition of a robot), and defining a cyborg as "a person who needs a mechanical or electronic device to help with their physical function, such as a bionic limb or pacemaker". According to several dictionaries, cyborgs are a fusion of human and machine whose abilities are superhuman. 
Reviewed by Lynne Babbage