David Walliams (text) and Adam Stower (illustrator), Robodog, HarperCollins Children's Books, April 2023, 320 pp., RRP $19.99 (pbk), ISBN 9780008469559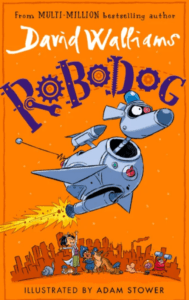 Robodog is the only one who can save the city of Bedlam from despicable villains. The police have been trying to rid the city of these evil doers who cause disruption and violence across their city without success. When Robodog graduates into the force, the police feel confident that they can finally conquer crime; Robodog holds the key to the future of crime fighting and, with his dear companion RAT who insists he is a mouse, Robodog knows he will have support every step of the way.
This crazy cartoon style story revolves around an extraordinary cast of characters. Apart from a robotic dog, there are some rather self-satisfied humans, a gang of villainous and particularly nasty cats, and a whole dastardly collection of supervillains including the dreaded Hammerhands, a small round lady with giant hammers for hands, Mighty Mind who is the master criminal behind most robberies, and the Ice Queen who can turn her foe into ice with the point of her little finger. When you put all these characters together, you come to understand why the city is called Bedlam—because it certainly is.
Since 2008, Walliams has seen unprecedented growth in the popularity of his books, with sales now exceeding 50 million copies, and he has gained international recognition for his best-selling children's books. Known for his highly imaginative storytelling, Walliams' books are about bringing joy and laughter to children and parents through the presentation of quirky situations, improbable characters and unconventional delivery.
Amidst the complex and sometimes chaotic story line, manic illustrations and graphically presented sound effects emblazon every page. These are the work of award-winning author and illustrator Adam Stower, who has created unforgettably fantastic images of Walliams' characters throughout Robodog. Indeed, Stower's bold and attention-seeking style can make it hard to concentrate on the text at times. Robodog follows on from the success of Walliams' most recent books, Fing, Slime and Megamonster, however, unlike some of his other titles, Robodog is perhaps best appreciated as a read-alone book rather than one for the family to read-out-loud. With so much graphic activity across the pages, the storyline and sound effects need time to digest…and appreciate.
David Walliams is a name that children recognise as the writer of great kids' books. When this storytelling talent is paired with the magnificent bold illustrations by Adam Stower as they are in Robodog, it's sure to be a winner.
Review by Jennifer Mors