Jackie French, Pirate Boy of Sydney Town, HarperCollins Children's Books, May 2019, 304 pp., RRP $16.99 (pbk), ISBN 9781460754795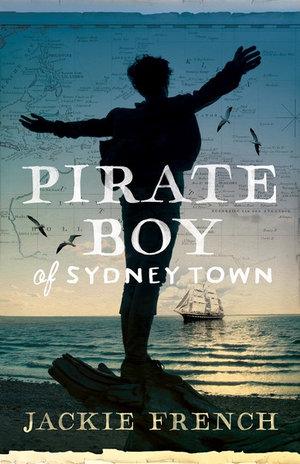 12 year old Ebenezer Huntsmore lives a contented life on Badger's Hill, England, until his father loses the farm in gambling debts. The decision is made to sail to the colonies to start a new life capturing enemy ships off the coast of Australia for the Prince of Wales. The long journey from England to Australia is beset with tragedy, including the death of Ben's mother and many convicts imprisoned in the ship's hold. Ben's impressions of Sydney town and the Hawkesbury River are far removed from visions of England, but meeting a girl his age and her ex-convict parents reassures him that there could be a life in this unfamiliar country.
Ben's father, however, expects him to travel west on the ship manned by men wanting their share of the treasures that will come from attacking enemy ships. Ben is no sailor but volunteers to climb aloft to the top platform and act as a lookout for icebergs and other ships. When the Captain leads a mutiny against Mr Huntsmore, he spares Ben because of the good work he has done. Ben, Higgins the convict servant, and Guwara the Indigenous sailor escape to the mainland, determined to sail back to Sydney. Their journey home is harsh, with an unexpected terrible encounter with a slaver, and only one finally makes it back to their new home.
French's writing strengths are many but the most evocative moments of this book are her descriptions of an Australia which is abundant with life. Guwara shows Ben and Higgins how to make shelter, find food and water, and create tools with the resources available. These images contrast sharply with the abject cruelty of the slaver's actions on Kangaroo Island. An exciting historical read for those who like adventure.
Reviewed by Pam Harvey