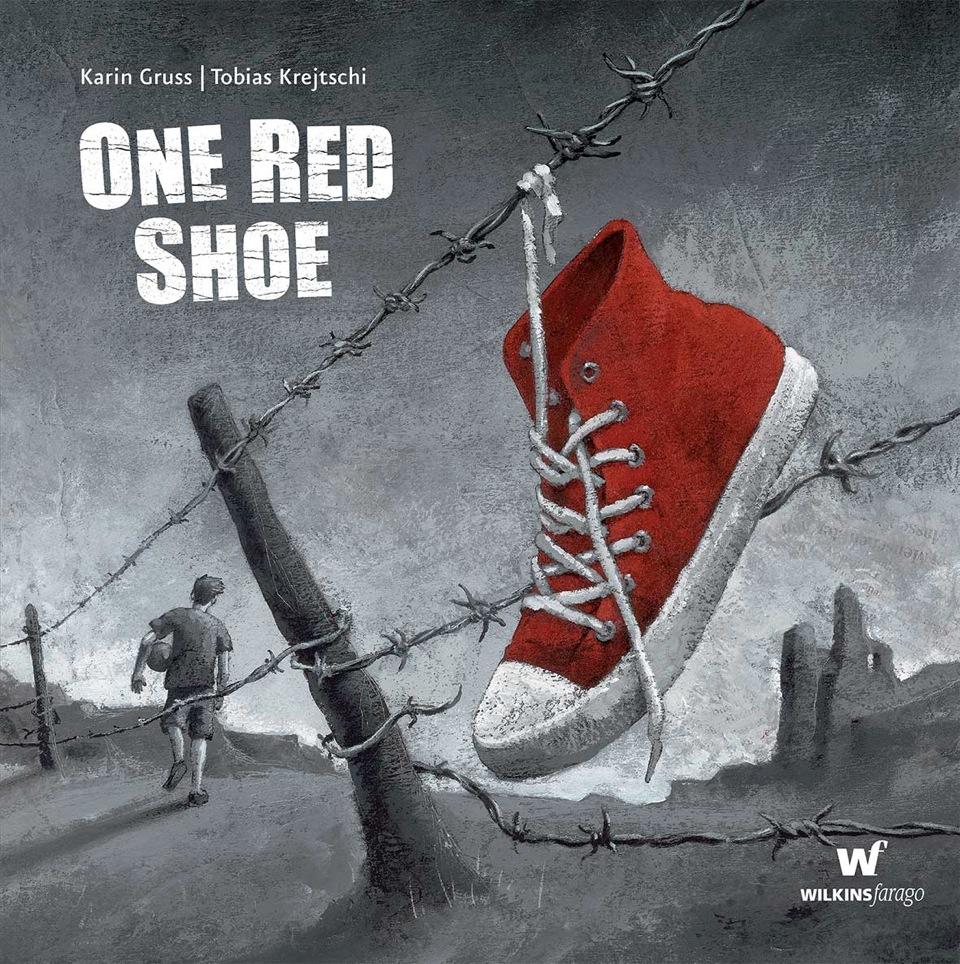 GRUSS, Karin (text) Tobias Krejtschi (illus.) One Red Shoe Wilkins Farago, 2014 unpaged $24.99 ISBN 9780987109965 SCIS 1658415
This moving story reaches across all ages.  A photojournalist in a war-torn country accepts an assignment to photograph the aftermath when a busload of children is attacked.  The story starts immediately with the endpapers showing him in his office, smoking a cigarette and obviously thinking about the news item.  Illustrated mainly in black-and-white line the story focusses on one injured child whose right leg has been hit by a grenade, his left leg is still wearing a red basketball shoe.  He reminds the photographer of his own nephew.  The illustrations resonate across all cultures.  They speak of pain, loss and death, of broken futures and broken families.  It is a powerful plea for peace.
It is also a classic example of how one object can carry a wealth of meaning through symbolism and of course, its colour.  The colour red carries its own meanings and it is used very effectively here to provide dramatic contrasts with the sombre tones of the book as a whole.  The full horrors of civil strife are not shown but rather hinted at.  A particularly moving double page spread shows children calmly playing in some rubble watched by a depressed mother and child.  It is all familiar from what we see shown nightly on news programs.  Concisely plotted, told in unadorned simple language the story is successful as a plea for sanity and compassion in the world.  Teachers' notes and other materials are available.
reviewed by Mia Macrossan