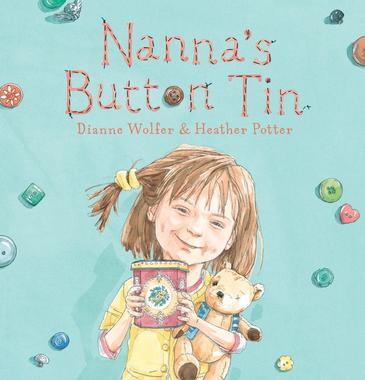 Dianne Wolfer (text), Heather Potter (illus.), Nanna's Button Tin, Walker Books Australia, 1 June 2017, 32pp., $24.99 (hbk) ISBN 9781922077677
This is a really lovely story, celebrating the special relationship between children and their grandparents, as well as showing how handy – and how meaningful – it can be to save and reuse things.
Nanna's Button Tin sees a young girl, 6, rummaging through her Nanna's button tin for a replacement eye for her teddy bear. As they scrutinise each button together, Nanna shares the stories behind them – the yellow buttons from the girl's jacket when she first came home from hospital, the bear-shaped buttons from the special jumper Nanna knitted her for her third birthday when she was mad about bears, the sparkly green buttons from the dress Nanna was wearing when she first met Pa…
I can totally relate to this story, as can my kids, although, in our family, I'm the one with the button jar. When my children's clothes are too worn to pass on, I snip off the buttons and add them to our collection. We've reused quite a few for craft projects together, like for the eyes on the first dolls my girls sewed and the gingerbread man my little boy is hand stitching now. Searching for the right button evokes memories of my children as little ones, toddling around in sweet pink overalls with flower-shaped buttons, or dancing in leggings with sparkly buttons along the ankles. Just like in this book, the buttons remind me of special times and stories to share with my children.
Nanna's Button Tin is beautifully illustrated with gouache paintings of the girl and her younger brother comfortably spending time with their grandparents. There's toys on the floor and books to share. Readers can search through Nanna's button tin along with the girl, pointing out favourites and making up stories about the others.  Thought has gone into creating interesting endpapers that inspire button craft, with the little girl playfully encircled by button necklaces. My little man enjoyed pointing out the differences in the front and back endpapers too.
Reviewed by Carissa Mason