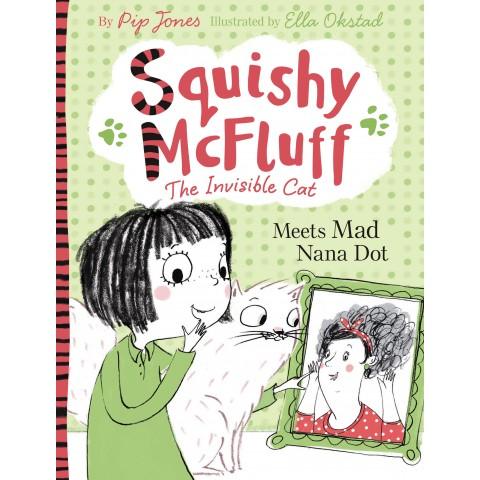 Pip Jones (text), Ella Okstad (illus), Meets Mad Nana Dot (Squishy McFluff The Invisible Cat #3), Faber & Faber,  1 March 2015,  $11.99 (pbk),  74pp.,  ISBN 978-0-571-30254-3
In the third book of the series Ava, together with her invisible friend the white cat Squishy McFluff, is to stay a whole night at her eccentric Nana Dot's. Ava's grandmother is dotty in many ways: her house is covered in dots and she does all sorts of dotty things such as eating fried eggs with bananas and honey. Many madcap and amusing adventures ensue, including Ava and Squishy mixing a dye at the hairdressers which makes Nana Dot's hair turn green – Nana, of course, thinks "it's perfection!" As it turns out, meeting Nana Dot is not the biggest surprise for Squishy as when Ava returns home she finds her new baby sister and she and Squishy must decide if they love this strange new creature who has entered their lives.
The comical and whimsical aspect of Squishy McFluff The Invisible Cat Meets Mad Nana Dot is enhanced by the story being written in rhyme. It is a very funny book with many visual and textual jokes which will make young readers laugh with enjoyment. Presented as a 76 page chapter book, the18cm by 14cm format is the perfect size for the 4 to 7 year age group. The front cover with an embossed title, the large, plain type on white background and Ella Okstad's expressive illustrations in shades of green, red and black all contribute to making this an attractive and fun book which children will want to read.
reviewed by Grace Nolan