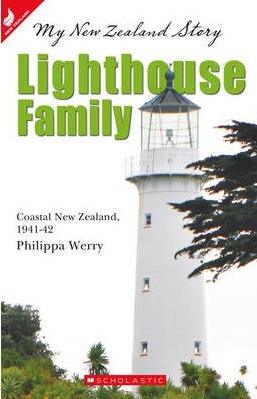 WERRY, Philippa Lighthouse Family. Coastal New Zealand 1941-42 Scholastic (NZ), 2013 240pp NZ$18.50 pbk ISBN 9781775431473 SCIS 1620582 
Part of the My New Zealand Story series, this book gives readers insight into life on a coastal New Zealand island during the Japanese invasions of Singapore and the bombing of Darwin.  Frances is the second youngest daughter of a large family whose father is a lighthouse keeper.
Scattered around the coastline of NZ as well as on island spaces, lighthouses were once occupied spaces with families responsible for this essential feature of maritime safety.  Often found in stark and difficult places where life and making a living can be a harsh existence, Frances has to say farewell to her best friend Violet whose family have been sent to another location, and is suddenly confronted by the fact that she is the only girl on the island with 8 boys.  She finds out that her mother is pregnant and thus begins her coming-of-age journey.
Written in a diary form, this is a deeply personal story with many subplots.  How does her deaf brother Stephen cope with the attitudes to deafness of the time?  How does Frances cope with Hugh, a ginger-headed, 14 year old boy who replaces her best friend Violet (and her own sexual awakenings)?  How can you prepare yourself for a possible invasion of your island?  This series is a must for the intermediate school classroom as it brings history and place alive.  Recommended.  JMcK