Adam Wallace (text) and Giuseppe Poli (illustrator), Invisible Jerry, EK Books, November 2018, 32 pp., RRP $24.99 (hbk), ISBN 9781925335781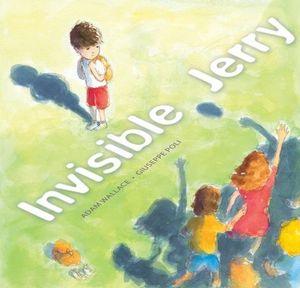 People don't notice Jerry. They're always bumping into him. He never gets picked last for a sports team – because he doesn't get picked at all! Jerry hates feeling invisible, but doesn't want to stand out either. Then along comes Molly. Molly notices him, listens to him and shares things with him. She makes him feel visible. Like a real person. This beautiful friendship makes Jerry realise that he could do the same for someone else. And "that was just the beginning."
Invisible Jerry is a remarkable book. Everything about it – the story, the illustrations, its relatability and power to make children think – is incredible. For children struggling to feel seen, and for empathetic children who have the capacity to create change, the book is positive and empowering. The cyclic structure of the story is also ingenious, showing that a small act of kindness can begin a chain of special and needed friendships.
The text is beautifully written with carefully constructed sentences that convey the story clearly. With only a line of text on each page, the illustrations are equally important for the storytelling. These gentle watercolour illustrations are stunning, conveying a sense of life, movement and feeling. The colours and use of perspective help create a mood for each page and carry the reader through the emotional journey of the children.
I'd recommend this very special and important book for children from age three, right through the primary school years.
Reviewed by Rebecca Blakeney