Rosie Day, Instructions for a Teenage Armageddon, 30+ Kick-Ass Women on How to Take Over the World, Hachette Australia, October 2021, 352 pp., RRP $22.99 (pbk), ISBN 9781526364319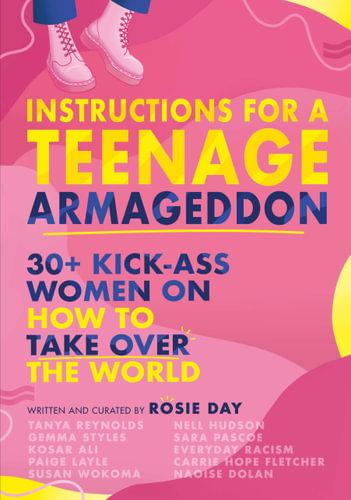 Instructions for a Teenage Armageddon is an empowering guide to navigating adolescence as a young woman.
The book is filled with inspiring, insightful, and thought-provoking letters written by 32 brilliant and successful women, curated by the award-winning actor and writer Rosie Day. The book delves into a wide range of important topics, such as mental and physical health, friendships, sexuality, self-expression, relationships, consent, and how to change the world. Valuable advice and messages are shared through the letters, retelling relatable and personal experiences that can help guide young women and show them that they are not alone. Some very practical tips are given, and additional resources are included at the end for further research or support. The book design is very fun and easy to read with patterns and simple illustrations on each page that really tie the work together.
Growing up in today's society is no easy feat, with unique challenges and opportunities previous generations didn't have to deal with. Having an instructions manual to get through these years, full of encouragement and advice could be invaluable to have tucked away for whenever a little guidance is needed. I would recommend this book for every girl starting high school, or around 12 years old.
Reviewed by Libby Boas