Jacqueline Harvey, High Voltage (Kensy and Max #8), Penguin Random House, September 2021, 384 pp., RRP $16.99 (pbk), ISBN 9781760898557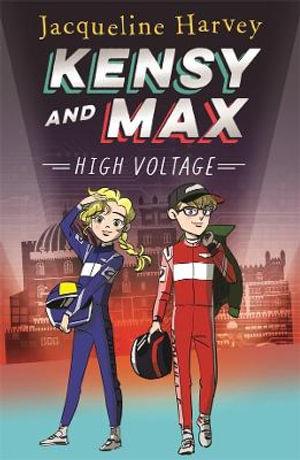 High Voltage is the latest book in this highly successful series of junior fiction by Jacqueline Harvey. Kensy and Max are twin siblings within a close-knit, caring family. However, with grandmother Dame Cornelia Spencer as head of the international espionage agency Pharos, it is no surprise that this is an unusual family of experienced agents and agents-in-training.
The past few months had been especially demanding on the family. Numerous complex projects and Dame Spencer's recent brush with death had put everyone on edge. So, Dame Spencer decides it is time for a holiday – she books the villa Quinta de Rosa in the small town of Sintra in Portugal where the whole family and close friends can relax and enjoy being together. But Cordelia has issued a stern warning to everyone; there is to be no investigations or spy activity during their stay. They must all agree.
As good fortune would have it, the Annual E-Prix motor racing championship is being held in Sintra at the time of Kensy and Max's family holiday. With their agent-in-training friends, Curtis and Autumn, the youngsters manage to get insider passes to watch the high-powered sports cars and their skilful drivers compete to win the prize. There is a charge of excitement in the air.
Life as an espionage agent is a full-time occupation and so, regardless of location, the young agents-in-training are always on the look-out. With a series of rather strange occurrences taking place around the village, and Kensy and Max's father disappearing at all odd hours, they know something is going on.
Theft, threats and bullying raise concern for our young agents-in-training but when Kensy and Max become aware of a kidnapping, they have no choice but to get involved. But there is a stumbling block – how to carry out these vital tasks without Granny Cordelia finding out. After all, they did promise no missions while on holiday.
High Voltage is a fast paced read with something happening every minute. The family is focussed on addressing injustices and crime, so their lives are never dull, even when they are supposedly on holiday. The Spencer family are good sound characters who look out for each other. In this book, Anna Spencer, the mother of Kensy and Max, decides to return to Pharos after spending some time working in her medical practice. Now the family is united in all ways and it's a good feeling.
It's another great adventure where integrity, communication, teamwork and problem-solving are at the fore. I have read all the Kensy and Max books and know the characters well – their quirky habits, sense of humour and intelligence are ever-present – but the cast is growing with each book in the series with multiple plots and new characters. It does take some concentration however Jacqueline Harvey cleverly includes a cast of characters in the front of each book for reference. Case notes about previous Pharos agent activities preface each story so the books it isn't necessary to read the stories in sequence, and for those who enjoy a little puzzle solving, the chapter titles are in code – this time in Rosicrucian Cipher – with the clues at the end of the story.
Reviewed by Jennifer Mors