James Tedesco, Hat-Trick Teddy, Pan Macmillan Australia, March 2021, 224pp., RRP $14.99 (pbk), ISBN 9781760982911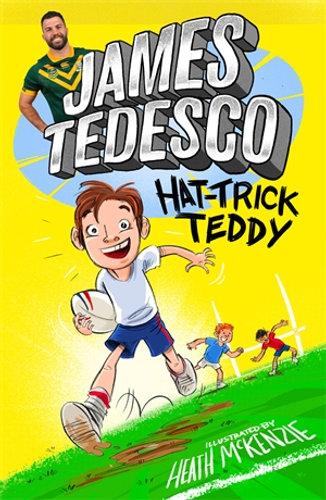 A book perfect for any little football lover, Hat-Trick Teddy is written by NRL Superstar James Tedesco which is sure to add to its appeal.
Tedesco's story is about 12-year-old Teddy who lives in the country with his parents and big brother. He dreams of being an NRL star; and lives and breathes footy.
Drawing inspiration from his own childhood, Tedesco encourages children to believe in themselves and their dreams while bravely tackling the obstacles along the way. Throughout the book at the end of each chapter there are 'Teddy's Tips' which focus on various topics important not only in football but life itself. Some of these include being in the moment, focusing on the enjoyment of the game, teamwork, paying attention, setting goals, and never giving up. All are valuable lessons for children and junior footballers alike.
Heath McKenzie's illustrations compliment the story, bringing the characters to life. Their cartoon like style would be appealing to young readers as they capture the fun and humour throughout the book. I particularly love the little Teddy illustrations on the bottom right corner of every righthand page which when flicked through create a moving picture or flip book.
The font size is perfect for younger readers with some words highlighted in different sizes or fonts to provide interest and impact to the text.
At the end, a photo of a junior Tedesco emphasises that dreams really can come try if you set your mind to something.
Reviewed by Raquel Mayman