Rich Moyer, Ham Helsing: Vampire Hunter (Ham Helsing #1), Scholastic Australia, July 2021, 240 pp., RRP $17.99 (pbk), ISBN 9781761123177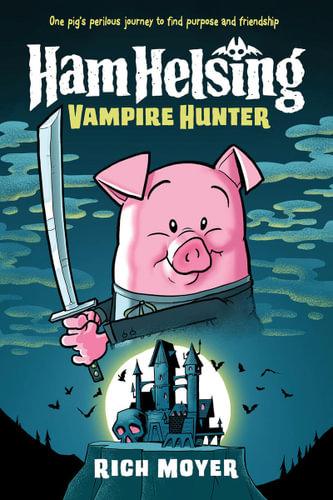 The graphic novel was created by Rich Moyer a cartoonist and award-winning animator. Moyer has truly taken his dad jokes to a whole new level in his debut graphic novel which he dedicates to his two daughters.
Ham Helsing is a descendent from a long line of vampire hunters who have all reached their tragic ends, resultant of their brainless inventions. After his brother's unexpected death, whom he had idolised all his life, Ham feels obligated to continue the family tradition. Drawn to Mud Canyon who is apparently being terrorised by a rogue vampire, Ham assembles an uncanny team for the mission. Along with two greedy rats, a ninja pig – Ronin and a lost boy werewolf, the team embarks on the monster hunt. But unexpectedly, PLOT TWIST! Turns out, the adventure is more complex and dangerous than they had planned. The vampire isn't the issue here, but rather a crazy spider lady and the mysterious mastermind behind her.
The rich animations definitely amplify the hilariousness of the text. What was initially thought of as simple sketches is in fact a clever and cheeky visual statement. Subtle details scattered throughout the graphics have readers closely scanning the illustrations for hidden messages and jokes that simply makes the entirety of the novel wittier. The colours and chosen settings within, appropriately mirror the creepiness of the story line. Packed with action, the fast-paced story line is contrasted by a cute collection of simple-minded characters.
I found this graphic quite amusing with all the random elements which surprisingly came together and worked quite well. Although it seemed as if the characters were incapable of completing their mission, their determination shone through. Through a very punny way, Moyer's creation reminds readers of the importance of persisting in completing our individual duty and to take a step back once in a while for a good chuckle.
The graphic novel was clearly presented in an easy-to-follow layout amongst all the silliness that was captured in each frame. I particularly enjoyed the mini comic Shaz-ham at the end of the novel which was just as creative and hilarious as Ham Helsing's adventure. I would recommend this fantasy fiction to all pre-teens. This doesn't mean adults won't enjoy a good laugh either!
Spoiler alert! The open-ended finale will leave readers hungry for the next Ham Helsing Happening!
Reviewed by Anna Tran