Jo Gliddon-Baker (text) and Aleksandra Szmidt (illustrator), Get Out of My Tent, Larrikin House, 32 pp., RRP $19.99 (hbk), November 2021, ISBN 9781922503411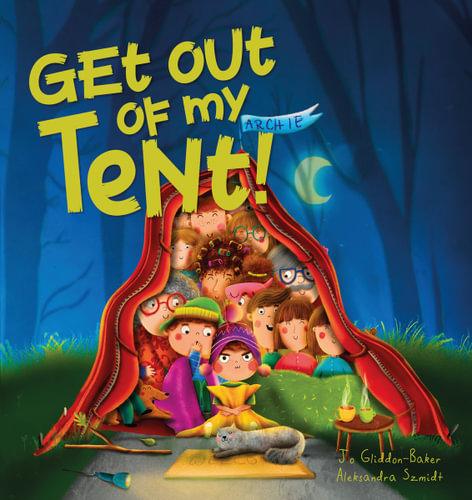 Archie is a child who enjoys his alone time and doesn't get bored. He lives in a bustling city and longs for nature, so it's no surprise that he loves camping, and in particular, the little red tent that's all his own.
Archie loved camping,
he loved the fresh air,
the sounds in the night,
the wind in his hair.
But when his extended family each find an excuse to squish in with him, he has to think of a way to kick them all out. If you're familiar with Larrikin House titles, you may be able to guess how!
The rhyming text is fast paced with a fun refrain which children will enjoy repeating. Kids who enjoy peace and quiet will relate to Archie's struggles, as will those in large families. The images strikingly contrast bold colourful elements with the dark night-time setting. Lots of humour is portrayed through the images, especially as Archie's tent get fuller and fuller!
A fun book for children 3-8 years, but you may want to skip this one if toilet humour isn't your cup of tea. Teacher notes are available at the  Larrikin House website.
Reviewed by Laura Holloway