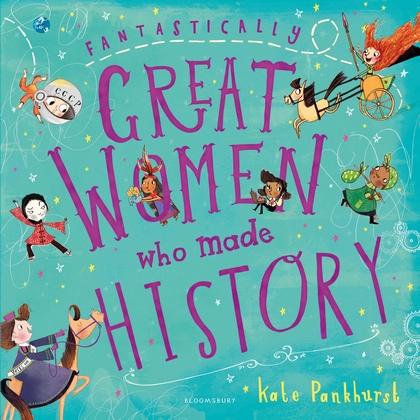 Kate Pankhurst, Fantastically Great Women Who Made History, Bloomsbury Australia,  1 March 2018, 32pp.,  $14.99 (pbk), ISBN 9781408878903
This colourful, lively text follows on from Pankhurst's Fantastically Great Women Who Changed the World. Fourteen women from across time and place are celebrated on double-spread pages. Paragraphs of information are surrounded by animated illustration, giving a sense of movement and action. The women featured are Boadicea, Qui Jin, Elizabeth Blackwell, Pocahontas, Harriet Tubman, Flora Drummond, Noor Inanyat Khan, Valentina Tereshkova, Ada Lovelace, Sayyida al-Hurra, Hatshepsut, Josephine Baker, Mary Wollstonecraft and Mary Shelley – women across time and cultures, from ancient Egypt (Hatshepsut) to outer space (Tereshkova). Their gifts to the world show traits of perseverance, standing up for the rights of women, bravery and imagination. This book is a great, but careful, introduction to a range of women, whose deeds could form the basis of many conversations. Recommended.
An activity pack is available on the Bloomsbury website.
Reviewed by Pam Harvey