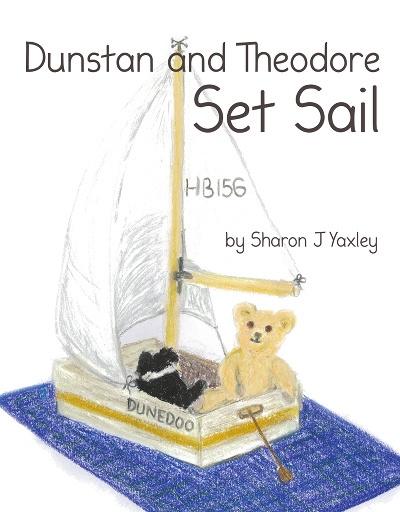 Sharon Yaxley, Dunstan and Theodore Set Sail (Dunstan and Theodore #3), Forty South Publishing, Oct 2017,  28pp.,  $16.95 (pbk), ISBN: 978 0648106388
Dunstan and Theodore Set Sail is the third book in this series which follows Dunstan the golden teddy bear and Theodore the border collie pup as they explore Tasmania.  This title's adventures take them on a sailing trip in Bass Strait, from Low Head to Flinders Island, where they explore the small islands and wildlife on the journey.
The story is told in rhyme, with the repetitive refrain "With the wind in their sails and the sun on their back, Dunstan and Theodore get ready to tack." Each page has gentle pastel illustrations with minimal text and generous amounts of white space, making it a lovely book to share with pre-readers. Beginning readers will also enjoy joining in with the familiar chorus and learning some of the sailing terms on each double page spread.
Introducing some of the geography and wildlife of Tasmania, the story features a map early on, so the journey Dunstan and Theodore take may be traced. I was a little confused by the fact that the characters created several boats, and are in a different boat on each page; however each boat is a reference to the author's childhood sailing memories. Readers may enjoy choosing which boat name is their favourite and designing and naming their own sailing craft.
With a simple but unique story, Dunstan and Theodore Set Sail is suitable for early childhood library collections or as a gift for the 3-5 year age group. There is theme music and additional information available online and you can follow their further adventures by connecting on Facebook.
Reviewed by Kay Oddone