Cassandra Clare, Chain of Iron (The Last Hours, #2), Walker Books, 592 pp., RRP $27.99 (pbk), ISBN 9781529500776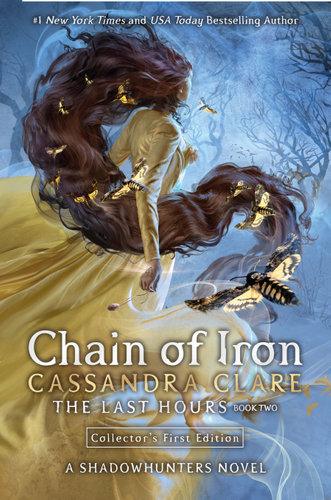 Cassandra Clare has become very well known due to her prolific, detailed and engaging series of books involving Shadowhunters (part angels, part humans) who work tirelessly to keep our world free of demons. There isn't just one series, there are about six, and keen fans are able to recite many facts about the Herondales, the Cairstairs, and the adventures that teens throughout the ages have had, and the connections between them all. It's kind of exhausting trying to keep up.
Having read the majority of the books, watched both the film and the TV series, I know what I was getting into with this 590 plus page tome, as does any invested reader. Fortunately, Clare is able to churn them out every year so we can keep up with the characters and not have to reread before a new title is released. She actually manages that very well: imparting information from other books necessary to follow this one blending them into the story with being too much of an info-dump.
While the author's timelines and various family groups are complex and intriguing, generally the stories follow a fairly routine arc. A group of flawed, but also clever and brave teenagers are thrust into dangerous situations, sometimes of their own making. While they remain loyal and honourable, they also keep secrets, obviously to protect those they love, and it's the consequences and ripple effects of these secrets that produce the drama of the relationships, which ensure readers persist and posit theories on beloved fan sites. There are family trees, containing crests, and mottos, and a whole range of extra side information available if one cares to look (I do).
Clare also balances multiple viewpoints and ever-changing perspectives. In Chain of Iron, our main protagonists, James and Cordelia have to share their page time with James's sister Lucie (who can command ghosts), Grace (who can command men), and a bunch of 'merry thieves', James's friends who all face their internal demons as well as the literal ones that explode from under the very foundations of their headquarters.
It's a slow burn adventure, with the tension taking time to build. It's not until at least page 470 before we see all the weaving, convoluted plot points merge and the action ramp up. While there's a denouement of sorts, because it's only book two, there are of course, final secrets revealed that ensure more questions are asked. This cliff-hanger means we now wait for the answers in book three (Chain of Thorns) out next March, thank goodness.
This epic sprawling urban paranormal experience isn't for everyone, but those who love it, really love it. It's great to introduce Cassandra Clare to new readers, only encountering the first one about Jace and Clary now, because there are sooo many books to follow. I have one student who started with this series (The last Hours), just this term, (we 'buddy read' Chain of Iron these past two weeks) who has taken the first whole series home for the holidays. She's excited to go forward in time, but backwards in terms of chronology of writing (good luck figuring that out), and I look forward to her insights and frustrations as she works her way through them all.
Reviewed by Trisha Buckley