Celeste Barber (text) and Matt Cosgrove (illustration), Celeste the Giraffe Loves to Laugh,  Scholastic, November 2019, 24 pp., RRP $17.99 (hbk), ISBN 9781760669171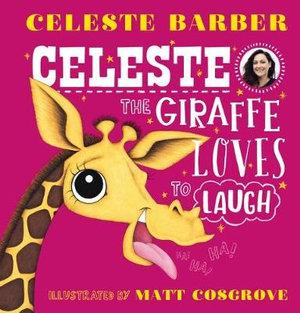 Celeste is a friendly, happy little giraffe with a kind heart who makes others laugh but worries she isn't enough. No matter which animal she tries to emulate – running like a cheetah, blowing bubbles like a fish, roaring like a lion – poor Celeste always misses the mark … until she ultimately realises she has many unique strengths and simply needs to be herself.  
A debut title from actor-comedian Barber, this heartfelt tale is a lovely introduction to self-identify, self-confidence and resilience. Rhyme features throughout the story but with no clear pattern or meter, which made it seem slightly clumsy to me, especially when reading aloud. I may be clumsy but I know that I am very strong. And I can reach more than the others because my neck is long.
Matt Cosgrove's vibrant illustrations are delightfully energetic. Clever typography and bold banana endpapers are an added bonus. Given the author shares a first name with the titular giraffe, who also likes to make others laugh, I couldn't help but wonder if she based the character on herself.
An amusing story for ages 3+.
Reviewed by Maura Pierlot