Jamar J. Perry, Cameron Battle and the Hidden Kingdoms, Bloomsbury, February 2022, 240 pp., RRP $14.99 (pbk), ISBN 9781526646859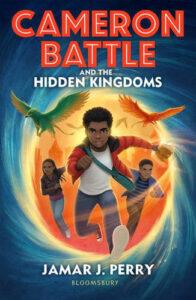 Jamar Perry is an African-American author who qualified and worked as a teacher before enrolling in a PhD program at the University of Maryland. His research focused on "Black boys, the history of traditional and Black masculinity in America, and racial literacy." He began writing stories for the reluctant readers he had come across in the classroom, especially Black boys who needed to see themselves as the heroes in books.
In what appears to be the first in a series, Cameron Battle lives with his Grandma after the death of his parents when he was ten. Now 12, he and his best friends Zion and Aliyah defy her instructions and creep up to the attic where she has locked away The Book of Chidani. Both his grandmother and his parents used to read it to him, but it becomes apparent that what he thought was a fictional fantasy was actually real, and evil creatures have started appearing nearby.
It turns out that Cameron is The Descendant, the inheritor of The Book from his mother and protector of Chidani. After being transported through a portal between worlds, he and his friends are tasked with saving the kingdom and preventing the queen's sister from destroying the barrier and both worlds.
This original fantasy, while having some conventional fantasy characteristics, is firmly based in Igbo culture. The Igbo people are one of the largest single ethnic groups in Africa, mainly found in south-eastern Nigeria. During the slave trade, many were forcibly taken to the United States, especially the Chesapeake Bay colonies and states of Maryland and Virginia. Igbo immigrants also arrived during and after the Biafran civil war, so the culture is well-known in those areas.
Australian readers may find this less engaging but will learn much about a culture which is unfamiliar.
Reviewed by Lynne Babbage