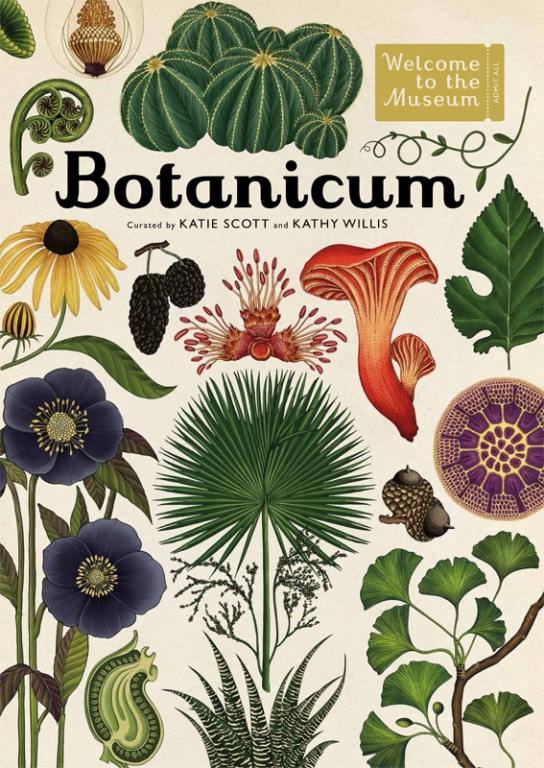 Kathy Willis (text),  Katie Scott (illus.), Botanicum (Welcome to the Museum series), The Five Mile Press, September 2016, 112pp., $39.95 (hbk), ISBN: 9781760403423
Green thumbs and lovers of all things leafy will swoon at the sight of this magnificent tome.  Katie Scott (who illustrated the amazing Animalium) and Kathy Willis have created a horticultural museum to make you feel you've crossed the threshold into a magical and timeless kingdom of plants.  Journey through the history and variety of the world's plants, from the beginnings of plant life on earth to today; from the most beautiful and exotic, to the strangest and smelliest.
The book begins with an introduction, and then leads us through seven greenhouses, including The First Plants; Trees; Palms and Cycads; Herbaceous Plants; Grasses, Cattails, Sedges and Rushes; Orchids and Bromeliads, and Adapting to Environments.
Kathy Willis, Director of the Royal Botanic Gardens Kew, writes compelling text, peppered with plenty of weird and wonderful facts.
Scott's pictures of plants are in plate style, with sumptuous colours and eye-popping detail. This is a lavish book, large in size and exquisitely produced on sumptuous thick, matte paper.
It's hard to define a specific age-group for this book as both myself and my three-year-old daughter have been mesmerised by it. But, I'm thinking it will be the perfect companion for children (six and up) with a penchant for horticulture and natural history.
Reviewed by Penny Harrison