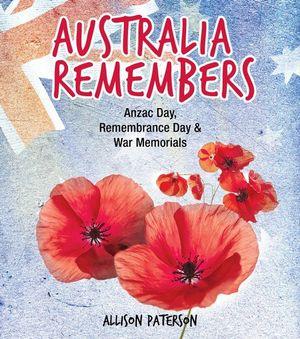 Allison Paterson, Australia Remembers: Anzac Day, Remembrance Day & War Memorials, Big Sky Publishing, September 2018, 64 pp., RRP $24.99 (hbk) (pbk $14.99), ISBN 9781925675788
This is an important book, because all history books are important, and especially books that tackle recent history and attempt to shape an account of that history for young readers who might be fired by curiosity—and might have even heard their own families talk of the events described. It is a brave book too, because the matter of the history of Australia's involvement in wars is contentious, and arguably sometimes as shameful as it has been honourable. In 2018, with the centenary of the ending of World War I, this book (and many similar ones) might also be inevitable.
Allison Paterson's account of Australia's war history is ambitious and complex, informative and reassuring. There are many text boxes, informational asides, colour photos and historical photos to assist in understanding. It is a useful starting point for any child wanting to know what wars we have been committed to, and what justifications for these wars we might want to consider.
Paterson points out rightly early in the book that in Australia we enjoy many civic rights and freedoms, and that we enjoy these liberties in large part because we are willing to defend our territory and values with an Australian Defence Force (ADF). We are told that it is right to be grateful to those who serve in the ADF—and this tone of gratitude, respect and confidence in the armed forces runs through the book. It is as if the text was produced by a recruitment agency for the armed forces, not by a historian interested in the more troubling possibility that the truth is not self-evident, that motives are not always pure, that politicians, even Australian politicians, might have sent soldiers to wars such as those in Vietnam or Iraq for ethically and morally compromised reasons. In the summary of the second war in Iraq, for example, the text does note that after the 2003 invasion by Australian, British and U.S. troops, 'No weapons of mass destruction were found', without further comment or analysis. 'Defeat', 'Deception' and 'hindsight' are words not possible in a book such as this.
Nevertheless this book is well organized, clearly written and deeply informative about the facts, the symbolism, the institutions and traditions that surround Australia's military history. Most remarkable is a map of the world on the endpapers of the book showing the spread of countries around the globe where Australian armed forces have been active. Recommended for readers 10 to 15 years old.
Reviewed by Kevin Brophy