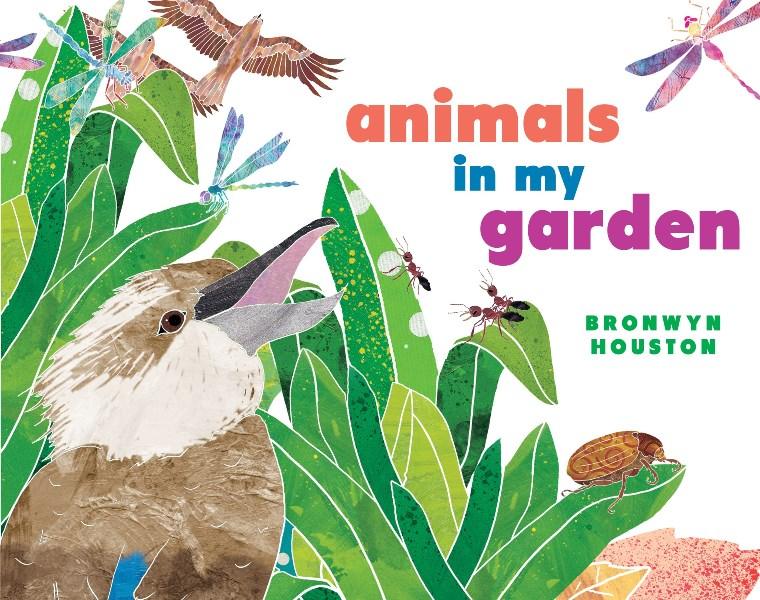 Bronwyn Houstom, Animals in my Garden, Magabala Books, Oct 2016, 7pp., $9.99 (board book),  ISBN: 9781925360448
From one snake to ten mosquitoes, this bright and cheerful counting board book is guaranteed to capture a toddler's attention. The illustrations are bursting with vibrant colour as they show a range of animals set amongst gorgeous garden settings. All the animals can be found in Australia, although it's a lucky person who could boast eight eagles in their garden!
For me, there were a couple of things that set this book apart from many of the other children's counting books on the market. The first was the distinct lack of mammals. Instead, it was refreshing to see animals that are so often underrepresented, such as reptiles, birds, frogs and insects. Secondly, I enjoyed the fact that not all the animals to be counted were immediately obvious. Sometimes an animal was part-obscured under foliage, or even cut off by the edge of the page, which made for creatively interesting illustrations.
The simple text shows numbers in both word and numeral form, which is helpful to a child's learning. The strong, sturdy pages will endure ongoing use.  Which, being such an attractive little book, it should get!
Reviewed by Julie Murphy