Megan Wagner Lloyd (text) and Michelle Mee Nutter (illustrator), Allergic, Scholastic, August 2021, 240 pp., RRP $17.99 (pbk), ISBN 9781761128523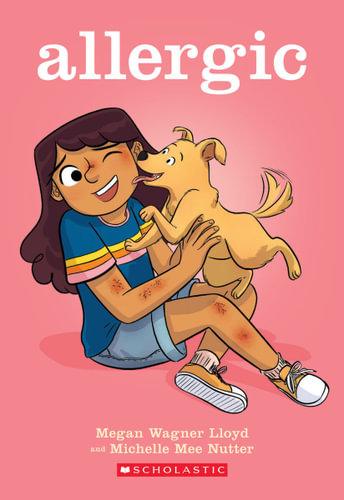 It's Maggie's tenth birthday and she can't wait to go to the animal shelter and choose her very own puppy. Maggie is feeling left out at home: her parents are preoccupied with the imminent arrival of their baby, and her younger brothers are twins who live in their own world. But when she plays with the perfect puppy, she starts to feel unwell, breaking out in a rash and sneezing, and it's soon discovered that Maggie is severely allergic to anything with fur.
To make matters worse, Maggie has had to change schools and feels very lonely, until she meets her new neighbour Claire and they become best buddies and embark on a search to find Maggie the perfect pet.
This book is semi-autobiographical and Maggie is very relatable. Her worries and concerns are the typical worries and concerns of a ten-year-old and her feelings of disappointment, isolation and rejection are very real; the reader cannot help but feel empathy. Explanations of allergies in all their different manifestations are cleverly woven into the story, so that readers will easily absorb the information without even knowing it!
Allergic is a graphic novel, similar in style to Raina Telgemeier's novels. Megan Wagner Lloyd tells her story with honesty, and Michelle See Nutter's crisp illustrations are appealing. The pitch and tone of this book is perfect, and I hope to see more collaborative works from these two talented storytellers. I really liked this book!
Highly recommended for ages 10+.
Reviewed by Gaby Meares