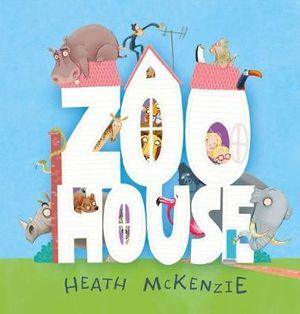 Heath McKenzie,  Zoo House,  Scholastic Australia, June 2018, 32pp.,  $16.99 (hbk),  ISBN: 9781742767628
Heath McKenzie takes us on a journey with Oscar and his family as they wake to find their house is a zoo! What will they do?
The bright and cartoonish illustrations portray a sense of chaos, craziness and confusion. Animals with big eyes, extreme reactions and expressions, along with the use of varied font types and sizes; McKenzie creates a sense of hysteria while moving through the pages.
This story is sure to make young children giggle; my boys found the baboon bottoms and gorillas on the toilet particularly funny, and laughed a lot while pointing out different highlights of the kitchen scene with the monkeys.
I appreciate books which provide a journey from start to finish; especially those which make use of the endpapers to contribute to their story. The dirty animal footprints inside the covers of this book had my boys trying to identify which animal they might belong to, and had them wondering what the story might be about.
An added bonus is the search for the koala hidden 11 times among the pages.
Reviewed by Raquel Mayman