Grégoire Solotareff (trans Daniel Hahn), Wolfy, Gecko Press, June 2019, 32 pp., RRP $16.99 (pbk), ISBN 9781776571574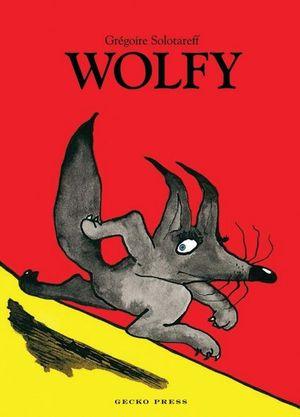 Once there was a rabbit who had never seen a wolf….
Wolfy is a colourful picture book by the award-winning French writer and artist Grégoire Solotareff, and is the English translation of his 1989 book Loulou.
The book centres on the relationship between a young rabbit named Tom, and a young wolf named Wolfy. Neither has ever seen one of the other's species before, and despite the fact that they have been told they are enemies, the two become friends as they can see no reason why they should not be.
The simple story-telling style is incredibly effective, as is the bright imagery Solotareff uses to bring the characters to life. Wolfy explores themes of generational prejudice, empathy and tolerance, subtly and expertly woven into the story as a clever subtext (parents reading along with their children will spot this straight away, but it will be one for the kids to think about a bit more).
My seven year-old read it in the space of about two minutes, and immediately grasped its themes, and was very impressed with the story as a whole.
It's far from your typical picture book, and there's no doubt as to why it's considered by many to be a modern classic.
Reviewed by Christian Price