Dominique Valente, Willow Moss and the Lost Day (Starfell #1), HarperCollins, May 2019, 288 pp., RRP $16.99 (pbk), ISBN 9780008308407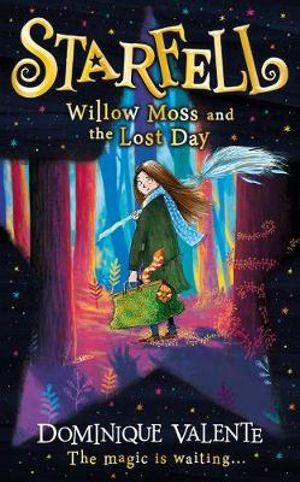 While most witches in Starfell were born with an interesting magical ability, Willow Moss was born with the ability to find things – lost things like socks and keys. It isn't as impressive as her mother and sisters' abilities, but it does come in handy to help her neighbours. And when the renowned and feared witch Moreg Vaine turns up requesting Willow's help, it seems that finding things might come in handy after all. Because last Tuesday is missing. Gone. Nobody can remember a thing about last Tuesday, which might seem like a minor thing at first, but it is actually quite important if last Tuesday was your wedding day, or the day you were supposed to fight a big battle.
Moreg convinces Willow that she needs her help and so they set off on an adventure, drawing in a cast of colourful characters, including a dragon and a troll. Early on, Moreg Vaine is captured by the Brothers of Wol, so Willow must go on, relying on her wits – and her new friends – to free Moreg and uncover the secret behind the missing Tuesday. Willow can't use her magical powers to call Tuesday back without knowing why it was taken away, because it might unravel the whole space/time continuum and cause the end of the world, but she realises along the way that her boring magical ability isn't so boring it all. After all, it's what you do with it that matters.
But this isn't just a magical adventure, it's also a fable. Once upon a time, Starfell had been full of magic. But the Brothers of Wol feared the magic and so had attempted to purge it – sound familiar? And now the magic rising again, it's finding a way and the Brothers of Wol won't stand for it.
There was heavy competition to purchase the rights to this series and I can see why. It's a magical adventure with a powerful underlying message of acceptance and a cast of unique characters. It is recommended for those who enjoyed Nevermoor and Cressida Cowell's books. I would liken it more closely to The Extremely Inconvenient Adventures of Bronte Mettlestone by Jaclyn Moriarty. It is pitched at a slightly younger audience than Nevermoor but does stray into darker territory in the climax. I look forward to reading the sequel.
This is a great book for readers 9-12.
Reviewed by Pamela Ueckerman