Delphine Davis (text) and Adele K. Thomas (illustration), The Reef Rescue (Mermaid Holidays #4), Puffin Books, December 2019, 118pp., RRP $9.99 (pbk), ISBN 9780143796473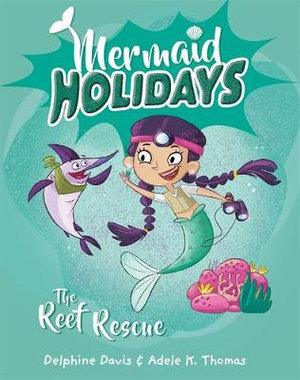 The Reef Rescue is a book from the Mermaid Holidays series; that features four Mermaid friends and their adventures on holidays. This book focusses on 'Olivia Ocean' mermaid whose aspirations to be an explorer get her into a spot of trouble during Sea Star Reef Summer Camp. 
This was a fun light-hearted read suitable for children aged 8-10 years. There are plenty of ocean puns and expressions to keep the reader entertained; "mermazing, pipping pipis, fishtastic and jellyfish jiffy" to name a few. Descriptive or emphasized words are accented in green font which adds further expression to the story. The mermaid characters and their sea creature friends are depicted in a relatable and likeable way. The only problem I had was identifying what names went with what character!
Adele Thomas' drawings are cartoon style and rendered in a limited palette of greys and green. They complement the text nicely and character expressions are captured well. The wavy green border around the pages, as well as a slightly wider page dimension, I felt also enhanced the visual appeal of the book for the age range it targets.
An enjoyable and well-suited book for the emerging reader, and one that would particularly interest budding young marine biologists.
Reviewed by Julie Bertola