Nette Hilton (text) and Lucinda Gifford (illustrator), The First Adventures of Princess Peony, Walker Books, November 2018, 64 pp., RRP $19.99 (hbk), ISBN
9781760650445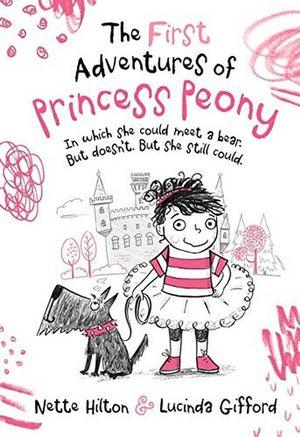 This first book in the Peony series, by award winning author, Nette Hilton and illustrator, Lucinda Gifford, is an illustrated mini novel about an imagined adventure of a feisty, strong willed little girl, named Peony.
The front cover sets the tone of playful silliness with a sub-title that proclaims – " adventures of Princess Peony – In which she could meet a bear. But doesn't. But she still could." Whilst the text refers to Peony's imaginings, the illustrations depict Peony's reality, with humorous effect. Peony refers to herself in the text as a "a dear little girl" who is a Princess, but she is illustrated with messy hair and ill-matched clothing and facial expressions of annoyance or surprise. She is far from demure and elegant. Her imagined dragon, Totts, is really a pet Schnauzer and the evil Troll is Peony's taunting brother. The illustrations also show the "royal castle and courtyard" as a domestic setting of suburban home and backyard.
With few words and expressive cartoon illustrations, Hilton and Gifford have developed an enjoyable storyline in which the Troll (Peony's brother) traps Peony in a bear trap (a piece of rope in the backyard) and refuses to release her until she gives her dragon (the dog) to him. Finally, Peony gets the better of her brother when her dog training efforts pay off. At the end of the book, there are four pages of amusing "True Princess information and quiz sheet for princesses in waiting" which will have the reader smiling and chuckling along.
I recommend this book for 5-8 year olds, especially the girls who enjoy the "princess" phenomenon and would identify with Peony's strong and determined character. Being in easy reader format, with only a few sentences per page, it is an excellent text for beginner readers to develop their reading confidence and learn about the role of illustrations in storytelling.
Reviewed by Barbara Swartz