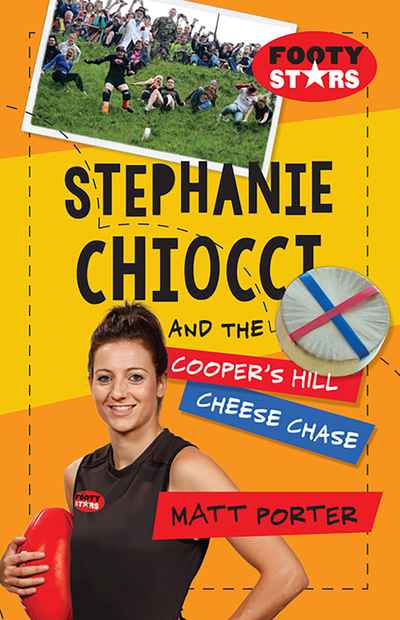 Matt Porter, Stephanie Chiocci and the Cooper's Hill Cheese Chase (Footy Stars #1), Ford Street,  Feb 2018, 76pp., $12.95 (pbk), ISBN 9781925272888
This first book in the new Footy Stars series has debuted just as women's football is really taking off with the rise of the AFLW. In partnership with Collingwood's captain, Stephanie Chiocci, author Matt Porter has written a funny and engaging tale about Steph skiving off to compete in a cheese chase.
Chiocci writes a forward, answers a Q and A about her career at the end of the book and includes tips on taking screamers and 'spoiling from behind'.
The nice thing about the story is that you don't have to be a footy fanatic to enjoy it. Porter has used the real-life crazy sporting (?) event of the Cooper's Hill Cheese Chase as his plot driver. The event is delightfully kooky, and students might enjoy checking it out online. Be warned though, there's a YouTube clip titled, Cooper's Hill Cheese Chase deaths! Think running with the bulls, only all the contestants run down a giant hill chasing a huge cheese wheel.
At the beginning of the chapter book, Steph receives a letter from England from ten-year-old Emily begging her to come and snatch the Cooper's Hill Cheese Chase title from local cheesemaker Neville O'Shea. O'Shea is also trying to put Emily's granny out of the cheese business. Steph sneaks onto a plane planning to help, while club president Eddie McGuire thinks she's taking a well-earned rest. And so, the adventure begins with Steph needing to use all her footy strategies to take on O'Shea.
An easy and enjoyable read for middle primary kids. Teachers' Notes can be found on the author's website.
Reviewed by Heather Gallagher