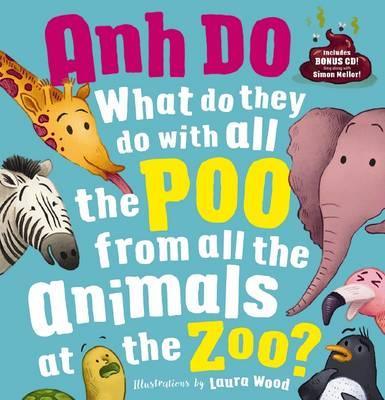 Anh Do (text),  Laura Wood (illus.),  What Do They do with all the Poo from all the Animals at the Zoo?,  Scholastic Australia,  1 Oct 2016,  24pp.,  $19.99 (hbk),  ISBN: 9781760276324
With one of the longest titles I have seen in a while, this picture book for children 4+ poses the question that many zoo-goers may well puzzle over: what do they do with all that poo?
Being a former zookeeper myself, I know the answer. But it is not nearly as entertaining or amusing as all the weird, gross hypotheses cheekily presented by award-winning author and comedian, Anh Do. It is way more fun to spend time pondering the possibilities posed in this book: is it mixed into chocolate ice-cream? Or cereal? On pizzas? In lollies? To quote the final page, "EWW!"
The appropriately bright and cheery illustrations by Laura Wood feature enough brown mounds, large and small, to amuse any young child. The design is also lively – I particularly loved the type, which is set in a range of sizes, colours, and fun higgledy-piggledy layouts.
A bonus CD by Simon Mellor (not included with this review copy) invites children to sing along with the rhyming text. But even without the CD, this story makes a great read-aloud, which is sure to have gross-loving kids in stitches in about three seconds flat.
Reviewed by Julie Murphy