Caroline Magerl, Nop, Walker Books Australia, November 2019, 32pp., RRP $26.99 (hbk), ISBN 9781760651251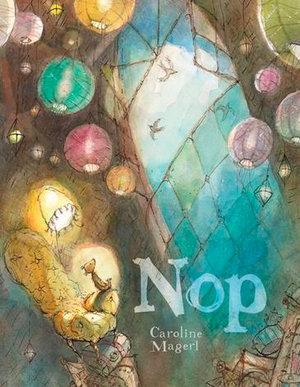 Nop was not plush in places, as you'd imagine a much-adored teddy lovingly hauled around by a devoted toddler should be. But, there was nothing to tell where he belonged, now abandoned to Oddmint's Dumporeum. This whimsical story, by Caroline Magerl is beautifully written and will be thoroughly enjoyed by any imaginative young reader who loves adventure.
Nop was the last one left at the end of a busy day, alone he put on a discarded red ribbon and tied it like a bow tie, now he could go anywhere. Nop went to work sewing rags together and with a puff, as light as a dandelion fluff he was carried away by his makeshift air balloon. When orange is spotted amongst green, Nop lets go and falls into the arms of a friendly orangutan at the city zoo.
I thoroughly enjoyed the flow of language in this fanciful story. The lyrical prose creates beautiful imagery, a pocket handkerchief of green evoking the miniscule scale of the city zoo below a floating Nop, for example.
The illustrations are charmingly artistic and some reminded me of Van Gogh's swirly lights in "Starry Night", particularly the tea light scene in Oddmint's Dumporeum.
Nop is loveable and cute and Magerl has masterfully used minimal language to convey her whimsical ideas. Together making this story a great shared read at bedtime for young readers.
Reviewed by Katie Mineeff