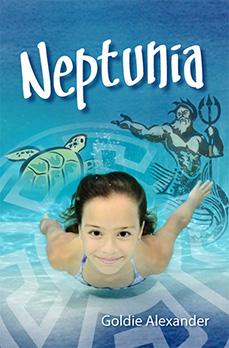 ALEXANDER, Goldie Neptunia Five Senses, 2013 123pp $14.95 pbk ISBN 9781741308716
Cassie Georgiana Odysseus is a swimmer.  Her ambition is to swim in the Olympic Games, but when her mother and father split up, she and her brother must stay with an elderly couple in the small town of Ithica, which has no swimming pool.  When she finds a magical box, its owner, Ms Laertes, tells her what she must do to save the oceans from global warming.  Using the magic charm, Cassie completes the task, overcomes all obstacles, and life opens up for her.
Family breakdown, global warming, the threat of changing schools, living away from home – all the problems faced by Cassie seem to crowd in on her and the reader in a small space.  Cassie stutters along rather than tells her story smoothly, and the world of the present is mixed rather chaotically with the undersea world.  Alexander has drawn on The Odyssey for her inspiration, and she explains the role of each character as an appendix.  Young swimmers will enjoy the tips for racing and Cassie's growth in maturity as her journey moves forward may resonate.
reviewed by Stella Lees