Nikki McWatters, Hexenhaus, University of Queensland Press,  31 Oct 2016,  333pp.,  $19.95 (pbk),  ISBN: 9780702254253
Three stories of three different women, living centuries apart, but woven together by blood and fate.  Three tales of persecution, the fight for freedom, and the struggle to be true to oneself.
When the book arrived, it looked like this: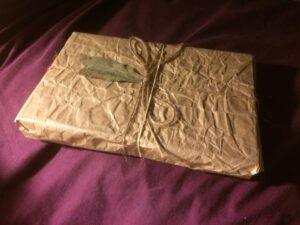 So I knew I was in for something a bit different, and a bit special.  I wasn't wrong in that assumption.  Hexenhaus is a remarkable tale – or rather, set of three tales – that takes us deep into the lives of three very different women who are forced to confront very similar forces in the world around them.
The book is written in the first person, and alternates between the three eras and three characters – Veronica Junius of Bamberg, Germany (1628); Katherine Campbell of Renfrewshire, Scotland (1697), and Paisley Muller-McLeod of Bundanoon, Australia (present day).  Their stories parallel each other, and deal with respective issues of loss, of false accusation, of persecution, redemption and the overcoming of tribulation.
At first the connection between the three protagonists is unclear, and for a while there is a very slight disjointed feeling as we are introduced to the characters and their very different lives; however the writing soon settles into a familiar rhythm and before long we are eagerly turning the pages, anxious to see how the story unfolds.  Towards the end I found that I couldn't put the book down, I needed to find out how it all ended and how the threads of the three lives would be ultimately woven together.  Hexenhaus is engaging and historically interesting, providing a fascinating insight into one of the darkest eras of human history, and indeed the darker aspects of human nature.
Definitely one for the older bracket of the Young Adult readership – certain descriptions of the various tortures concocted by the various inquisitors would not be appropriate for a younger audience… but those in their mid to late teens would find this fascinating, and it would certainly inspire further reading and further learning!
Reviewed by Christian Price