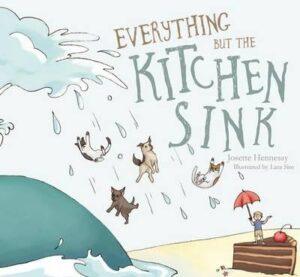 Josette Hennessy (text), Lara Sim (illus.),  Everything but the Kitchen Sink, Little Steps Publishing, Dec 2016, 32pp., $16.95 (pbk), ISBN 9781925545036
Squirt thinks his dad is a bit of a character; a lovable one who has lots of strange sayings and unusual names for everyday things.  Squirt's dad calls all his friends Mate and says that Squirt is a Little Ripper when he does something special.  Squirt's dad is a fun-loving character who enjoys spending time with his son in rural Australia.
In Everything but the Kitchen Sink, Hennessy has endeavoured to provide some insight into the quirkiness of the Australian language – especially some of the slang terms many of us grew up with as the lingo of the Bush – and a child's response to what really is quite odd terminology at times.
I love rhyming stories.  They are such great fun to read and children respond so readily to the seduction of repetitive sound.  I must admit, I did find the rhyme to be laboured in parts which disrupted the flow of the reading of this charming story however, given the aim is to bring Australianisms to life, perhaps this can be forgiven.  A little more clarification of the terms would certainly enhance this book for non-Australian audiences but it's a terrific way to keep these Aussie idioms alive for the next generation.
Sim's illustrations are bold and vibrant with lots of active scenes of family life in a rural setting.  This provides lots of visual cues for chatting about the story and I was especially delighted to see it raining cats and dogs on the front cover.
Reviewed by Jennifer Mors