Eric Veille, Encyclopedia of Grannies, Gecko Press, April 2019, 32 pp., RRP $27.99 (hbk), ISBN 9781776572434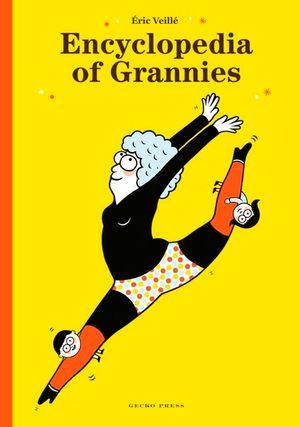 Inside every granny, there's a small house, and in that house is that same granny when she was a little girl. That's where she still lives.
Though not a comprehensive collection of every Granny in existence, this little volume is a cute compendium of the quirks and features of the breed of human known as grandmother. This book collates and categorises Grannies by their physical attributes (Creases, Flexibility), their habits (Knitting, The Waiting Room) and offers little-known facts about their inner lives.
This book is a fun read, one you would imagine reading together with your own Nana, Oma, Abuela or Nonna. Of course, the author, Eric Veille, knows that today's Grannies are not all the same. This book could extend family studies or discussions, link to grandparent's day.
And for those who still find Grannies a mystery, there is a Vocabulary page at the back to help navigate the world of G-Ma's. Gigi's and Meemaw's. Which one do you have? Next time you see one in a Waiting Room, because apparently, they are always there, say hello. They may have a story to tell from trip to Macchu Pichu.
Reviewed by Belinda Raposo