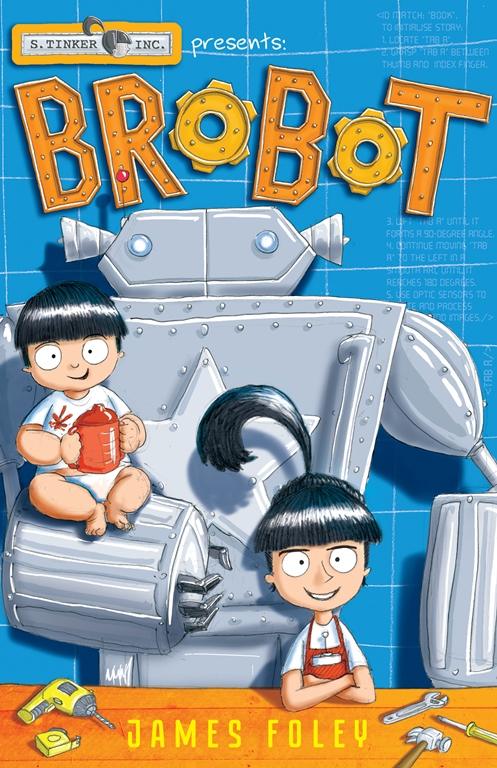 James Foley, BroBot, Fremantle Press, 29 August 2016,  112pp.,  $14.99 (pbk),  ISBN: 9781925163919
Sally Tinker makes machines… and Joe Tinker breaks them.  BroBot is the story of a junior inventor who decides that a robot brother – a BroBot – would be far preferable to the pudgy, smelly, interfering human variety she happens to be burdened with.  But can a metal sibling really replace the genuine article?
BroBot is a junior graphic novel, aimed at younger readers but there's plenty of fun in it for higher age groups (this reviewer in his late thirties thought it was awesome!).  I read it with my five year-old son who absolutely loved it. There were lots of laugh out loud moments, and he really dug the concepts and characters.
Young Miss Tinker isn't all that fond of her baby brother, which no doubt is a common theme among kids with younger siblings.  Building a seven-foot tall steel replacement probably hasn't occurred to your average youngster, but I think that's what makes it all the more fun.
I also like that the protagonist is a girl – we need to be encouraging more girls towards science and engineering, and a book about a girl who builds sophisticated robots (and numerous other remarkable gadgets) is a great way to get that ball rolling.
While it's definitely a book for children, there's plenty of "Easter Eggs" hidden for grown-ups too… cheeky little self-referential jokes can be found throughout if you're looking for them, and they make it all the more fun to read.  Kids will love the attitude, the action, the vivid cartoon-style illustration; and adults will love the zany, over the top humour, and the happy ending that will bring smiles all round.
Teaching Notes can be found on the Fremantle Press website.
Reviewed by Christian Price