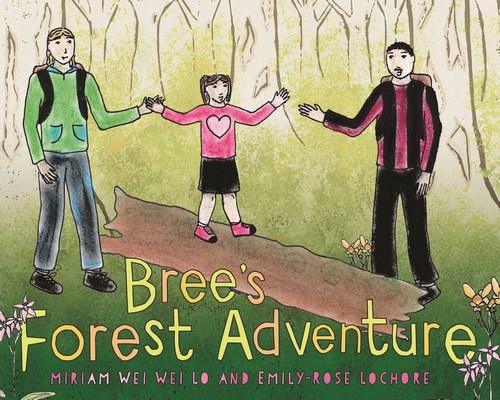 Miriam Wei Wei Lo (text), Emily-Rose Lochore (illus.), Bree's Forest Adventure, Margaret River Press, 30 Nov 2017, 32pp., $16.00 (pbk), ISBN 9780648027546
This picture book for preschoolers and beyond is an eclectic blend of multicultural heart, combining a piece of Chinese culture with the wonders of the Australian bush. Author Miriam Wei Wei Lo and her illustrator daughter, high school student Emily-Rose Lochore, have created a rich, lively story from their experiences walking through the Boranup Forest of Margaret River.
Integrated is a fun, counting sequence and a humorous, suspenseful storyline that creates a sense of drama in essence of 'We're Going on a Bear Hunt'. Rather than searching for a bear, the family, including "four gung-ho grandparents, three noisy brothers, two quiet parents and Bree" are on the look-out for a certain, special something that keeps us guessing until the end. On their journey, over rotting logs, under fallen branches, around a mossy rock and through prickly bushes, the children take turns to discover a variety of fascinating flowers and fairy-wren birds (each identified with their common and scientific names). Once the treasured plant is found, it's back through the karri trees of the forest they go.
The naivety of the illustrations perfectly suits this playful family adventure, loosely coloured with pencils and daubs of paint. The fact that the book was created by a mother-daughter team adds to the warmth and energy that can be felt across the words and pictures. Bree's Forest Adventure is an entertaining and interesting resource to share as well as promote research, whether online or in person, on Australian flora and fauna in the bush.
Reviewed by Romi Sharp