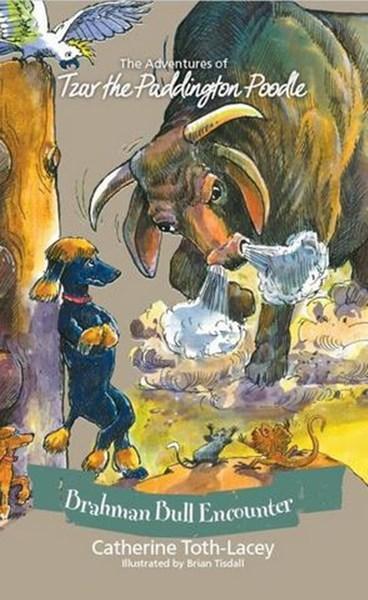 Catherine Toth-Lacey (text), Brian Tisdall (illus.),  Brahman Bull Encounter (The Adventures of Tzar the Paddington Poodle #3), Freedom and Fun Books, 1 July 2017,  212pp.,  $20.00 (pbk), ISBN: 9780648071822
An all Aussie cast of animals!
A book about friendship, overcoming fear and working together.
Author, Catherine Toth-Lacey, uses her own poodles, Tzar and Ziggy, as inspiration for this series. In book three Tzar and Ziggy are off to the Northern Territory and find themselves integral to the success of a brahman bull cattle drive across arid lands and a croc infested river.  We meet spinifex hopping mice, frilled neck lizards, a wedge tailed eagle, dingoes, a king brown snake and a Dahl's aquatic frog. And if you want to learn more about each animal, the book includes additional information.
I have never come across a story about poodles in Australia. This book provides a strange juxtaposition between our preconceived ideas and reality. I have a vision of poodles as snooty, pampered pets, their natural fur clipped into absurd pompoms before being made to prance around a show ring. And then I read about these clever pooches. Tzar, a giant French poodle, and his toy poodle 'brother', Ziggy, are poodles that aren't afraid to get their 'perfectly manicured nails' dirty.
Unfortunately, this book is not high on my list of recommendations for children. The interaction between humans and animals was undeveloped with 'The Mum' and 'The Dad' having very little impact to the overall plot and I found it a little disconcerting that only the Indigenous characters could communicate with the animals. It is, however, a fair representation of Australian wildlife and the perils and beauty of the Australian outback and would be enjoyable for readers with these interests.
The sponsored illustrations by Brian Tisdall are fantastic and well worth spending extra time exploring. The colours are beautiful and rich portraying the lighting effects of the Australian environment at all hours of the day, and the characters are drawn with lots of personality. The illustrations alone could be used to portray them.
Teacher's Notes can be found on the author's website.
Reviewed by Sharon Smith