Davina Bell (text) and Jenny Løvlie (illustrator), All of the Factors of Why I Love Tractors, Little Hare Books, October 2019, 32 pp., RRP $24.99 (hbk), ISBN 9781760501457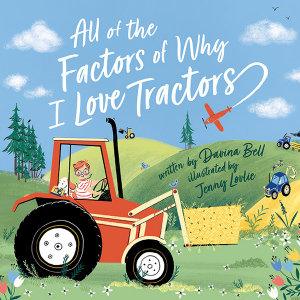 Many children at some point fall in love with a book they return to time and time again. Frankie McGee in All of the Factors of Why I Love Tractors is no different.
Frankie loves tractors, and libraries and tractors! Frankie's poor mum loves taking him to the library but really wishes Frankie would choose a different book. But could mum be missing out on learning about all the wonderful different types of tractors?
You would be forgiven for thinking this book is only about a boy who loves tractors, from the title and cover, but it is so much more.
Libraries are celebrated in this book. I quietly chuckled at the stereotypical librarian with her bun and spectacles against the modern library background. Libraries have become such vibrant and creative spaces today – a far cry from the 'shush' environment we adults experienced when we were young.
Davina Bell effortlessly captures Frankie's fascination with tractors and mum's protests for Frankie to try a different book. The lyrical rhyme weaves seamlessly from page to page making for an enjoyable read.
Jenny Løvlie's colourful illustrations have a classic feel throughout that brings the story to life, and an assortment of tractors is beautifully captured like a timeless wallpaper on the inside cover pages.
There is something so reassuring about seeing familiar faces and words in a book, not to mention all the amazing things repetition does for a child's vocabulary and early literacy skills. Teachers and parents are given an opportunity to explore and discuss favourite things and books, while promoting libraries and all the wonderful books that can be found in them.
The story also offers some insight into all the benefits of repetitive reading such as fluency and comprehension, which ultimately builds confident readers, just like Frankie!
All of the Factors of Why I Love Tractors is an entertaining story that celebrates the comfort in familiarity and repetitive learning, our wonderful libraries and children who just love books.
Reviewed by Shelley Stephens